Sustainable Packaging
Sustainable Packaging Specialists Serving the United States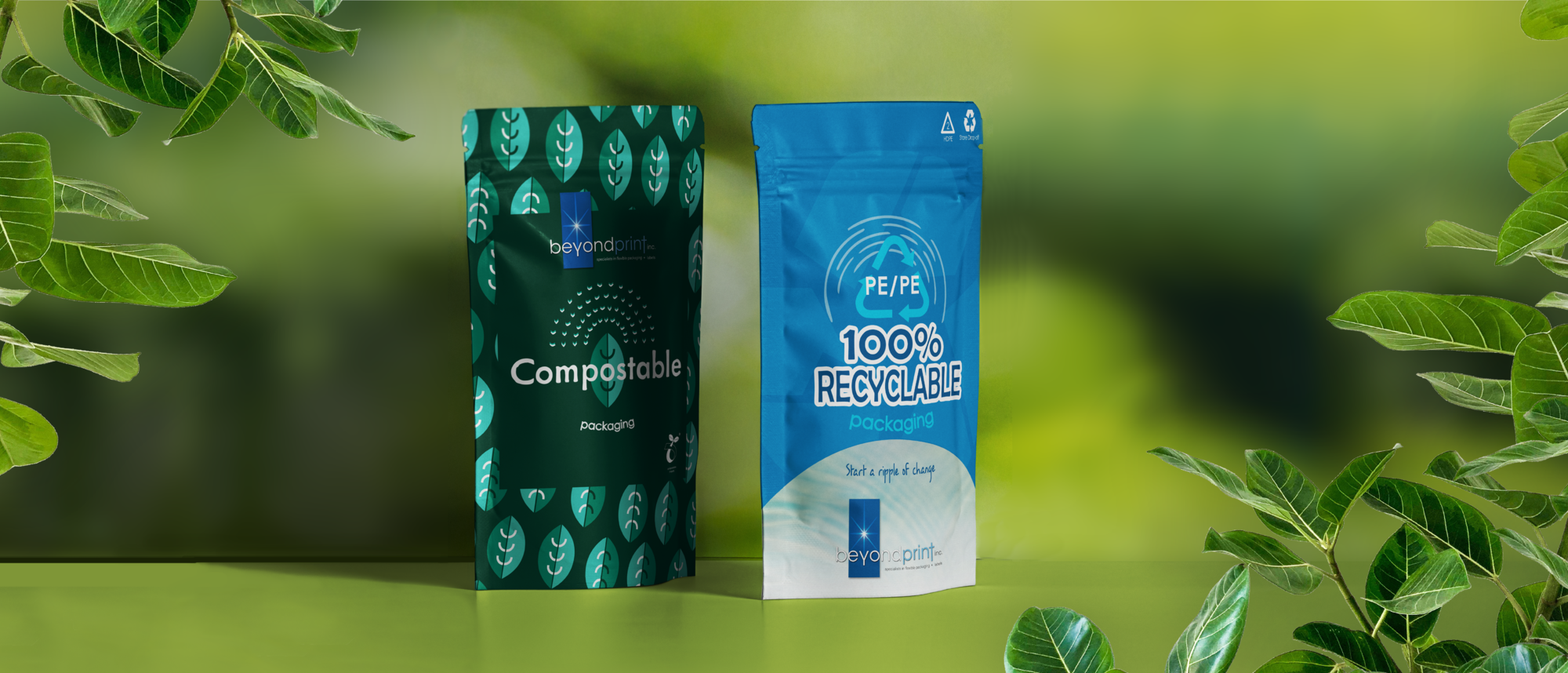 Sustainable Packaging


WHAT IS SUSTAINABILITY?
Today it has a lot of different meanings. Sustainability, in a nutshell, is conservation of resources, recyclability of resources, and the reduction of economical, environmental, and social impact from the production of goods.
Sustainable packaging helps create a stronger planet and provides a successful business opportunity in that it can protect the environment and our land fills without sacrificing product quality.
Beyond Print has pursued several sustainable initiatives for our flexible packaging products including the use of recyclable packaging, post consumer recycled (PCR), and compostable packaging.
RECYCLABLE PACKAGING

Beyond Print offers 100% recyclable pouches and roll stock for digital printing that fit sustainable initiatives while helping businesses stay within their budget, without sacrificing product quality.

The benefits are threefold with our recyclable digitally printed products and the end result is outstanding eco-friendly packaging.
A greener end of life cycle for your consumers

A cleaner printing process

Less waste with low minimum quantity orders
Our recyclable products are made with Polyethylene (PE) films that are fully recyclable and maintain high-barrier properties for optimal product protection. They are also fully compliant with the How2recycle program, giving your consumers easy to follow guidelines for end-of-life disposal so real environmental impact can be achieved.
Beyond Print's recyclable packaging is suitable for Store Drop-Off recycling and fall under a recyclable #2 symbol, allowing for curb drop off.

Another recyclable feature worth mentioning is our digital presses. Digital printing reduces excess waste by allowing for lower minimum quantity orders and uses less energy than other printing technologies. In our case, we use digital presses that are carbon neutral and use recyclable inks. It's one more way we can help affect positive change for the world we share together.

POST-CONSUMER RECYCLED PACKAGING

Just as consumers are looking to play their part to help the environment with their purchases, businesses have sustainable goals to achieve as well.

Choosing packaging made from Post-Consumer Recycled (PCR's) materials is an exceptional option for your business to make a positive environmental impact before your product ever reaches a store shelf.
PCR refers to any material that can be disposed of in a recycling bin. After these materials are collected by local recycling programs, they are sorted by material type and processed, ready to be molded into something new. PCR packaging is an important player in supporting a circular economy.
Beyond Print's post consumer recycled flexible packaging and roll stock require fewer virgin polymers (28% less) than traditional packaging, which means less greenhouse emissions are created during production which puts a profoundly positive impact on mother Earth with less landfill waste.
Beyond Print's PCR and Recyclable Pouches
Are held to the same high standards for performance at a great value
Are sourced, manufactured, transported, and recycled using renewable energy
Optimize the use of renewable or recycled source materials
Are manufactured using clean production technologies and best practices
Are made from non-hazardous materials for handlers and surrounding communities
Are physically designed to optimize materials and energy
COMPOSTABLE PACKAGING

Beyond Print's compostable packaging is made with bioplastic materials derived solely from renewable resources like corn and sugar. Unlike traditional plastics, the material is non-toxic and doesn't release dangerous chemicals into the environment as it breaks down.

Both stand-up and flat bottom pouches can be made compostable and have high barrier options, making them safe and effective for a variety of different food and consumer products such as:
Dry snack foods

Cereals

Grains

Pet food

Spices

Tea
Our compostable packaging is certified for both home composting and industrial compost, with authorizations to use the registered Seedling Logo and BPI Certification Mark, assuring consumers the pouch is truly compostable.
Our sustainable packaging is good for the environment and doesn't compromise quality!

Product performance, to us, especially with sustainable packaging, is pivotal for both client and product success. With a pulse on this objective, Beyond Print provides
custom recycling packaging design
that includes the following.
High Quality Film Structures

High Performance Barriers

Glossy, Matte, and Soft Touch Finishes
Give Beyond Print a call at 844-815-1216 to discuss your sustainable initiatives with us or if you prefer, reach out in a private message here. We look forward to hearing from you!
The Beyond Print Advantage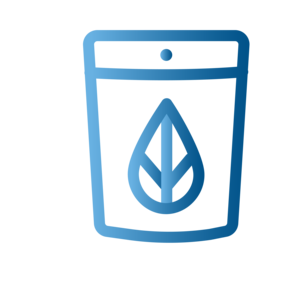 From Possibilities to Production
We honor your vision and add our expertise
We fit your project to your budget, not our price scale
We stay accessible - There's no silly questions to us
We meet deadlines and keep fast turnaround times
We have options, producing domestically and globally
We are committed to service first, at every level of our team