Why Choose Flexible Packaging?
July 20, 2022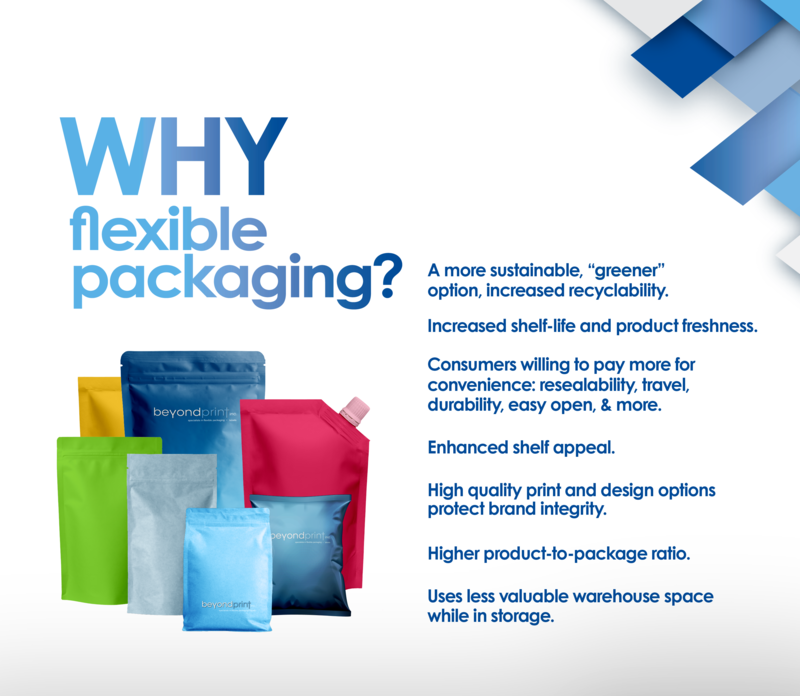 Flexible packaging is rapidly becoming the top choice in the industry, leading the way in innovation with many advantages over traditional packaging options. In case you're unsure what flexible packaging is, according to the Flexible Packaging Association, its:
"a package or container made of flexible or easily yielding materials that, when filled or closed, can be readily changed in shape."
Flexible packaging is a smart choice for product packaging, which is often the first point of contact consumers have with a product. First impressions can be long lasting and a great way to gain customer loyalty. Below are the top ways flexible packaging can make a positive impact for your brand.
1.)
The WOW Factor
Simply put, the pouches make your product look good. High quality printing showcases brand design, from images to illustration, every surface area is a chance for creativity to shine through. Various finishing options like soft-touch matte and textured varnishes are also available to enhance the look and feel of the package. Flexible options like stand-up and box pouches can sit directly on retail shelves, positioned to stand out amongst competitors.
2.)
Completely Customizable
Flexible packaging gives you, well, flexibility. Shape and size can be tailored exactly to your product's specifications and merchandising features, hang holes, handles, and more, can be custom designed too. Every layer of material used to form pouches is chosen for a specific reason based on product and consumer needs.
3.)
Consumer Convenience
Pretty packages may attract attention, but when it comes to buying, consumers are willing to pay more for convenience over anything. Features like resealibility, handles, spouts, tear notches, and multipacks increase ease of use tremendously and add further value to the product. Consumer convenience plays an important part in the brand experience.
4.)
Earth Friendlier Option
Across the board, flexible packaging is highly efficient due to excellent product to package ratios, which ultimately result in less consumer waste ending up in landfills. Continuous innovation is happening in this field to bring about new recyclable, compostable, and post-consumer recycled packaging options to help lessen the footprint of packaging thrown away. Flexible packaging requires less water and energy to make as well as to transport as it makes its way to market.
You only get once shot at first impressions, Beyond Print can help ensure you're making a good one with our high-quality flexible packaging, backed by the support of our dedicated and experienced team.
FLEXIBLE PACKAGING DESIGN BY BEYOND PRINT
Whether we are working with your design team or designing your project from the ground up, our art team has the experience and talent to elevate your project with custom design, photography, copywriting, and marketing. With transparency, our graphic artists and brand specialists will work with you to get the look and feel of your package and label correct through multiple mockups and revisions if needed. Click here to learn about our
design services
or take a look at some of our completed projects in our
gallery
.
Ensuring great customer service starts with our team working closely with yours. Explore our services and let us know how we can help you. Give us a call at 844-815-1216 or feel free to ask us your questions here. We are excited to discuss your project with you!