Magnetic Warehouse Labels Offer Flexibility in Tough Environments
February 17, 2023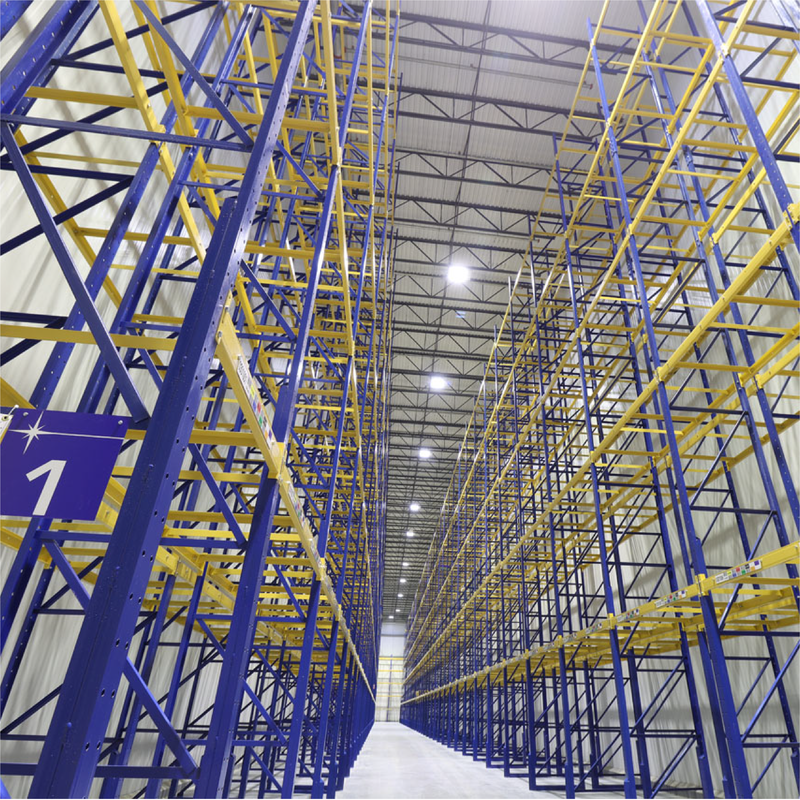 MAGNETIC LABELS GIVE YOU MORE OPTIONS IN MANAGING YOUR WAREHOUSE INVENTORY
Beyond Print's magnetic warehouse labels give you endless flexibility in warehouse labeling options. They can be customized to different shapes and sizes depending on the specific needs of your warehouse labeling project and optimized to endure various environmental conditions.
WITHSTAND FRIGID ELEMENTS AND WON'T DISRUBT BUSINESS FOR INSTALLATION
Traditional labeling system installations can cause downtime as not all labels can be applied to surfaces in refrigerated, frozen, or even muggy temperatures. The magnet labels can be applied anywhere on racking or metal surfaces and moved as needed, making installation less cumbersome. Our magnetic warehouse labels are designed to withstand the demands of various warehouse environments, with no temperature adjustments needed.
Beyond Print's freezer grade magnets are .060 mil thick. This thickness ensures our magnet labels will adhere and remain flexible in freezer environments, resist demagnetization, and will not crack, chip, or shatter when cut, drilled, or flexed.
Available magnet thickness options include: .015", .020", .030", .045", .060", .085", and .120".

The thickness of the magnets can be customized to offer optimal levels of pull force to best withstand your warehouse environment. This ensures our magnetic warehouse labels won't be moved on accident and stay securely in place.
CUSTOM DESIGN TO FIT THE NEEDS OF YOUR WAREHOUSE LABELING PROJECT
Whether you need a simple rack label or multi-line data labels, Beyond Print's graphic design and production experts can create custom warehouse labels that fit your project. We have the experience to provide guidance throughout the entire process. Here are a few examples of custom labels that we can create for your warehouse:
COMMON WAREHOUSE LABEL TYPES:



Warehouse Rack Labels
Rack labels signify pallet locations within a racking system. Polyester material provides a highly durable surface for barcodes. These are available in magnetic and cold storage options.
Totem Labels
Also referred to as a "man-down" label, totem labels allow forklift drivers to scan all levels from one spot without the use of a pricey long-range scanner.
C-Channel Magnets
C-Channel magnets can provide even more flexibility for your labeling project. Instead of labels being applied directly to magnet stock, labels or barcodes plaques can slide securely into a magnetic holder or, C-Channel magnet.
Our magnetic warehouse labels can be printed in a variety of ways that's most convenient for you: on perforated rolls, magnetic strips, or on sheets. We can also add a laminate coating to labels for extra durability.
NEED MORE COLD STORAGE WAREHOUSE SOLUTIONS?
Beyond Print has the best labeling solutions for cold storage environments in a range of applications beyond high-performing racking labels. From frozen product labeling to USDA export labels, our cold storage labels stick to the toughest jobs.
Our premium Arctic Bond™ and Value Bond™ labels were created to adhere to the most difficult surfaces while maintaining high performance in commercial freezer temperatures. All Beyond Print's cold storage labels have been field tested and proven in the most frigid environments.
Arctic Bond TM, our top performer in cold, wet and subzero conditions can withstand temps up to -60F. They can be installed in temperatures as low as -20F.
Due to our advanced permanent freezer-grade adhesives, once our cold storage labels are applied, they stay put, they won't stretch, tear, or curl-up.
These labels are a must when it comes to eliminating potential issues with stamping.
Our temperature-tested labels have outperformed others in the industry.
Arctic Bond Labels have been IARW North American Top 25 approved.
Our labels will adhere to boxes and can withstand commercial freezer temperatures.
LABEL SOLUTIONS THAT WORK


We guarantee our label products! If you are unsatisfied with the performance of our labels, we are dedicated to finding a solution that will fit your needs.
Not sure what your warehouse needs? Our team of warehouse and cold storage label experts are here to help you find the best solution for your facility. You can contact us here.
If you'd prefer to speak directly with an experienced team member about your labeling needs, give us a call at 844-815-1216 today!