Back to School means Back to Snacks
August 18, 2022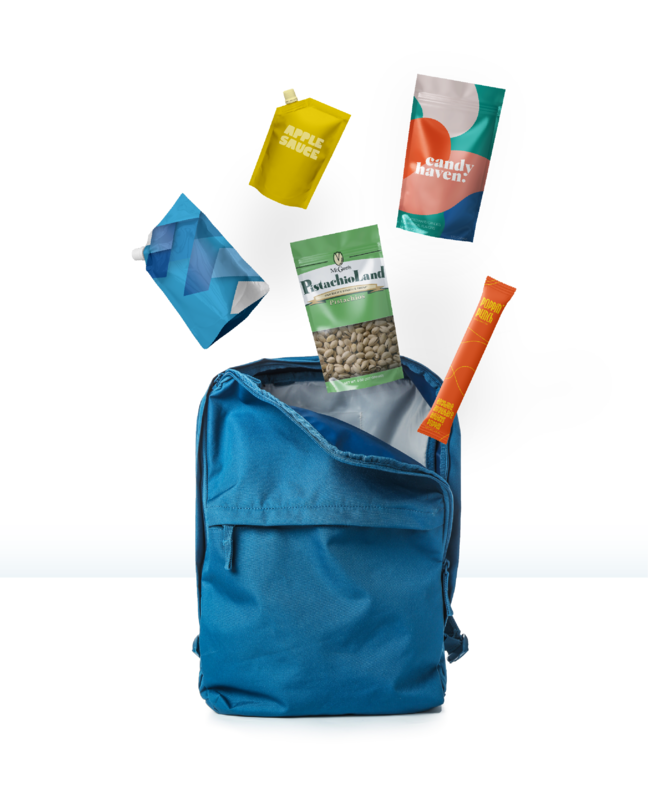 Snacks are Back in Session for Busy Schedules

The 'back to school' season is officially upon us and whether heading to preschool or off to college, the one supply all students can make good use of is SNACKS.

As one of the country's leading providers of food and snack packaging, Beyond Print continues to see dramatic growth in this industry, with fall being a prime time to bring new snacks to market. Estimated at $427 billion in 2020, the snack food market is projected to grow another 3.37% during 2021 to 2026, making this segment a worthwhile niche to be in.
Snack foods packaged to eat on the go or individually sized are perfect for sack lunches, sports practices, classroom parties, and late-night study sessions. Ready to eat snacks are effortless and in many cases, a healthier alternative to most of the processed fast-food options. Portable portions are a big help for families with hectic schedules to stay fueled, but packaging makes all difference when it comes to convenience.
Packaging for products that are traditionally quite messy like applesauce, pudding, yogurt, and even beverages, have come a long way over the last 30 years. It's important to work with a packaging partner that has a commitment to continuous innovation, always looking for the latest improvements available.
What makes Great Snack Packaging for Back-to-School?
Great packaging always considers convenience, freshness, longevity, functionality, and its waste impact. These elements are an added value to the snacks consumers buy, especially when they have no time to waste. Key features Beyond Print focuses on specifically for snack packaging include:

Resealability: Pouches with resealable zippers allow consumers to save what they don't eat for later use, ensuring the product stays fresh for an extended period and bonus, no spills in the car!

Spouts + Lids: Spouted pouches with screw on lids make liquid or runny products easy to consume and store without the mess or extra utensils needed. They make feeding even the youngest consumers mess-free when eating on the go or out in public.

Individual Portion Sizes: Variety or multi-packs provide great consumer value, allowing them to stock up on favorite snacks or have enough on hand for a whole classroom. Individually wrapped portions are also a safe and sanitary way for big groups to enjoy a treat together.

Durability: Whether it ends up in a bookbag, a lunch box, or a gym locker, snack packaging needs to be durable to protect the product inside wherever it may go. Flexible packaging films can withstand the elements and can be customized with high barrier layers to protect freshness too.

Extra Display Features: Having multiple ways to display products is crucial for getting consumers to take notice. Adding a hang hole for hanging displays or choosing a stand-up pouch that can sit on shelves is a great way to expand your merchandising options to attract buyers looking for an enticing quick bite at a point of sale.

Environmentally Friendly: Choosing convenience doesn't mean consumers are forgetting about the responsibility we have to a healthy environment. Packaging films made from recyclable, post-consumer recyclable or compostable materials are a great choice for conscious convenience by lessening the impact of snack packaging waste.
SNACK PACKAGING AT BEYOND PRINT
At Beyond Print, we develop snack packaging to fit the needs of your business:
Custom Design

- Bold and vibrant design to help your product stand out

Product Branding

- Packaging that tells your story and shares value in the message

Product Protection

– High barriers for freshness, keeping moisture and oxygen out

Durability

- Tear and puncture resistant films that protects from loss of product.

Sustainability

– Compostable + recyclable packaging options that protect the Earth
Need help developing packaging or design for your snack or convenience food product? Our team of experts are ready to help! Explore our services, give us a call at 844-815-1216, or ask us your questions here. We are excited to discuss your project with you!